Safety is a crucial part of the Borderland culture, reinforced through our full-time Safety Officer, OSHA's consultation program, and our formal Safety and Health Program (SHP). It is our policy to make every effort to prevent the occurrence of injury or accidents within our workforce and to all others affected by our work.
Adherence to our written safety program and ongoing commitment to safety is reflected in Borderland's excellent Workers Compensation Experience Modification Rate.  Our safety efforts have also been recognized by our clients, including one example from Mr. Duane M. Yantorno (Environmental Manager, Asarco Ray Operations) during the construction of the 7F-Wash Project:
"…Borderland's responsiveness, professionalism, and safety consciousness were exemplary… the project totaled 52,882 man-hours without a reportable safety incident, which is remarkable considering the complexity of the work and challenging terrain."
We use the following opportunities to educate and reiterate the importance of worksite safety with our employees:
Publishing of weekly safety information in our Borderland Gazette newsletter to increase company-wide awareness of potential hazards.
Daily Job Hazard Analysis (JHA) tailgate meetings to review site-specific safety concerns – All employees are strongly encouraged to take an active role in identifying safety practices.
Regular job site inspections by our Safety Officer – however, all employees are charged with ensuring job site safety.
Our full-time Safety Officer monitors and responds to all of our projects – 24 hours a day, 7 days a week.
Continuous education for employees including OSHA, MSHA, confined space, competent person training, etc.
Mandatory safety training for all new hires.
Semiannual safety breakfast where industry leaders give presentations and real-world examples of best safety practices.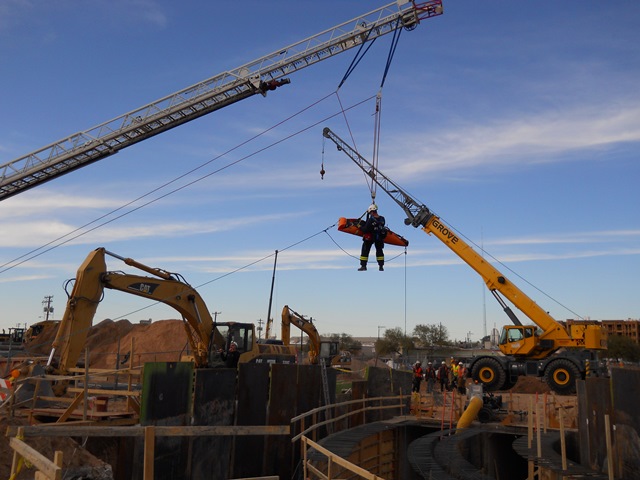 Borderland's written SHP helps to assure compliance with federal, state, and local regulations. We pay particular attention to the regulations set forth by the Occupation Safety and Health Act of 1970 (OSH Act 1970), the Occupational Safety and Health Administration (OSHA), and the Mining Safety and Health Administration (MSHA) as they apply to our operations within the construction industry. It is the responsibility of all employees to be familiar with the standards established by MSHA/OSHA, the Arizona State Mine Inspector, and the company as they relate to safe working activities. Our SHP provides specific policies and procedures on several topics including, but not limited to:
Mandatory Accident/Incident Reporting: Each occurrence is investigated to determine the root cause, and when needed, policies and procedures are evaluated to help prevent reoccurrence.
Personal Protective Equipment: All employees are trained in the use, maintenance, and care of their PPE.
Excavations/Trenching/Shoring: Borderland requires rigorous adherence to OSHA excavation standards. Supervisors inspect trenches throughout the day.
Mandatory Implementation of Lockout-Tagout: All employees are trained in procedures to prevent unexpected energizing, startup, or release of stored energy.
Confined Space: All applicable employees are trained in OSHA's standards including detection monitors and rescue systems for Permit-Required Confined Space work.
SDS/MSDS & Hazard Communication Program: All employees have received training and MSDS books are updated regularly for new chemicals carried and used on their job sites.
Employees are trained and certified in industry safety practices and procedures, including: